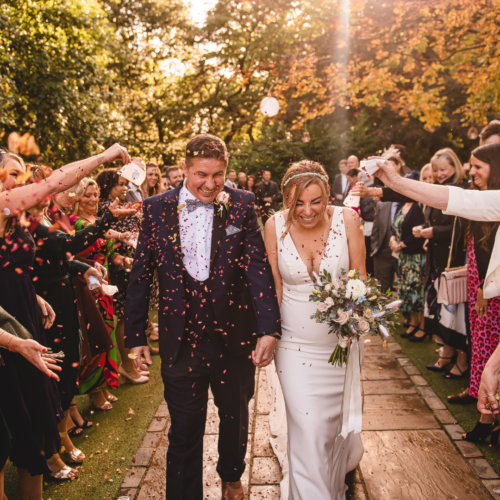 what to do if it rains on your outdoor wedding day
So, you're dreaming of a romantic outdoor wedding ceremony – it's easy to understand why!
Outdoor weddings are growing in popularity in England, and the thought of walking down an elegant garden aisle, surrounded by your friends and family is just beautiful. Surrounded by the beautiful Staffordshire countryside, tying the knot under a hand built oak gazebo that overlooks a private lake. Simple. Elegant. Timeless.
Naturally, the most common question for couples to ask is… "But what if it rains?"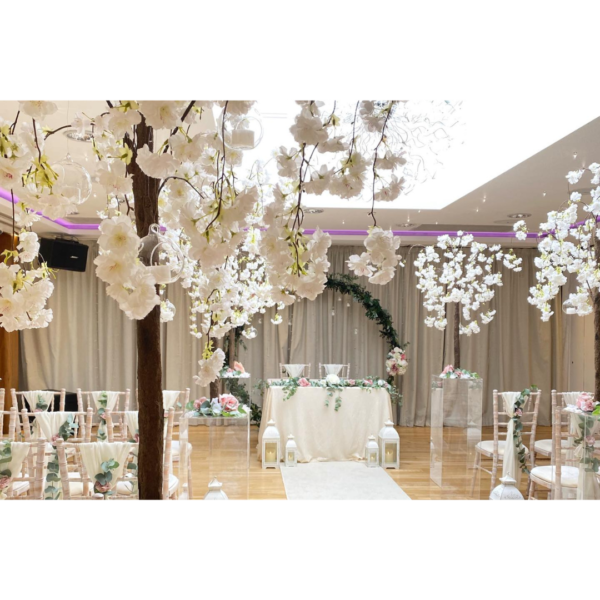 plan for the rain
Whether you're marrying in the Staffordshire countryside or on a Mexican beach, no matter how detailed your plans are, there's one thing that you can't control – the weather.
But the unpredictable British weather shouldn't put you off the outdoor wedding you're dreaming of! If you plan ahead, there's no reason to panic if the weather doesn't play ball!
You're marrying the love of your life, and whether that's a stunning outdoor garden ceremony or a beautiful intimate indoor ceremony, your day will be just as special.  
the power of a positive mindset
According to Hindu tradition, rain on your wedding day is good luck because it signifies your marriage will last. When a knot becomes wet, it's extremely hard to untie, therefore when you 'tie the knot' on a rainy day, your marriage will be just as hard to unravel. 

Others believe that rain showers on a wedding day provide a fresh start, by washing away bad memories of the past. Whatever your beliefs, the power of a positive mindset can completely change the way that you feel about your big day. Be accepting, be flexible, and plan ahead.
Don't watch the weather forecast too far in advance
Imagine this…
Two weeks until your big day, the forecast is sunny. Hurrah! You're getting your dream outdoor ceremony. A few days later, and the forecast has changed to include grey clouds and raindrops. Disappointment.
It's important to remember that advanced weather forecasts are notoriously inaccurate, likely to change, and are all too often the basis for an emotional rollercoaster (…and lets face it, this isn't what you need on the build up to your big day!)
Our advice is to make a wet weather plan, then try not to look at weather apps until a few days out when it's more reliable.
Think of the photos 
If you have rain, embrace it, and think how you could make it fun for the photos!
Think about colourful umbrellas that complement your colour palate, wedding party wellies, and research some fun wet weather photography ideas.
Wedding photographs are often enhanced when it's not wall to wall sunshine (there won't be anyone squinting to avoid the glare of the sun!) and photographers often remark that rain clouds can make for even more beautiful photos, with dramatic skies and softer lighting.
And you never know, you might even end up with a rainbow on your wedding day!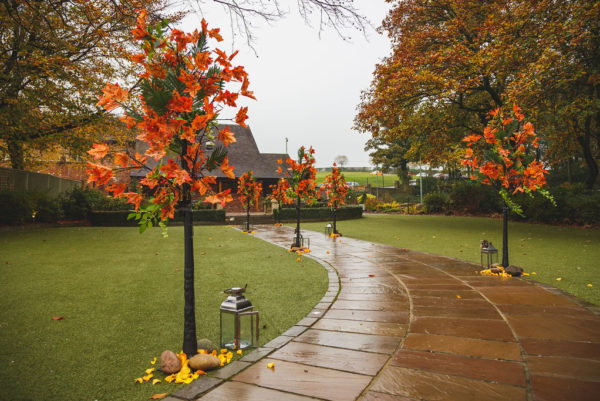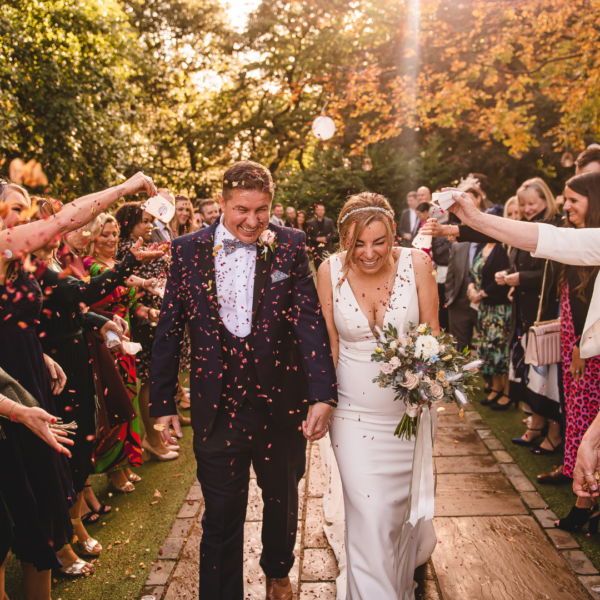 On the day 
At Moddershall Oaks, our team will always set up the inside venue so that it's ready for an indoor wedding ceremony, even in the midst of a heatwave – just in case.
Indoor ceremonies can be just as stunning. With the starlit backdrop providing the perfect blank canvas for you to add your personal touches, the Venue provides a totally unique space to add your own style, and wow your guests. Our recommended suppliers can offer tips and suggestions for dressing the indoor space in a way that complements your personal style. 
For those worrying about mud…fear not! Our garden aisle is surrounded by AstroTurf, and will look beautiful and green all year round.
The reality
Mr & Mrs Pemberton (pictured) had dreamed of an outdoor ceremony for their October wedding day. During the morning, the weather was wet and the forecast was for rain to continue, making it unlikely that they would be able to wed outdoors. 
As the ceremony time approached, there was a break in the clouds, and the decision was made to move the ceremony outside at the last moment. 
Our team were outside, drying off chairs and preparing the space to enable the couple's dream outdoor wedding to take place under the gazebo as planned.  
Rest assured that where possible, our team will go above and beyond to deliver the day of your dreams. 
From our experience, couples who have had rain on their wedding day haven't felt like it spoiled things in any way. A sunny day is a plus, but it's the people that matter, not the weather.
It's a rare and special thing to have everyone you love in one place at the same time. So embrace it, take it all in, and don't worry too much about the things that you can't change.