DOG FRIENDLY WEDDING VENUE IN STAFFORDSHIRE
When you dream about your wedding day, you picture celebrating with your nearest and dearest and very quickly it becomes apparent that there's one very special guest who must be invited…your much loved pet!
Whether or not they're given a formal role like leading the bridal procession, having your dog join in your wedding day can provide incredible photo opportunities, wonderful memories and lots of fun for your and your guests!
And this is exactly the reason why Moddershall Oaks allows dogs at weddings!
Top tips for including your dog in your big day at Moddershall Oaks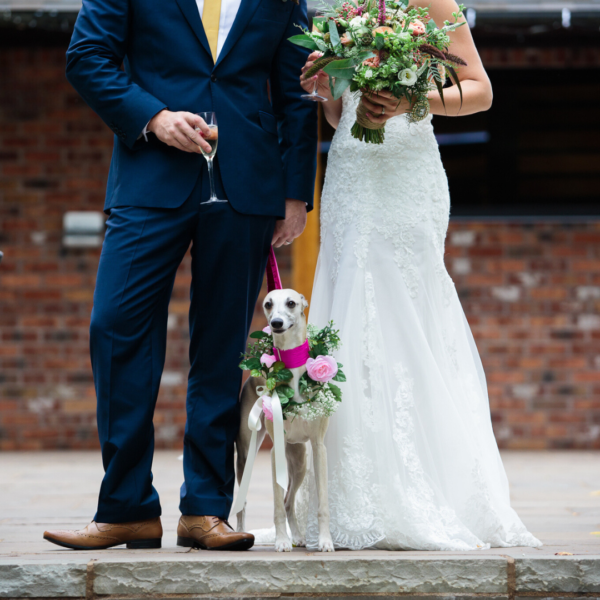 Make sure you let your photographer know ahead of time. We'd even suggest getting them involved in your pre-wedding engagement shoot! Having your dog join in the photography often leads to more natural and joyful couple photos – a skilled photographer can perfectly capture your natural interactions with your best friend.
Let your wedding guests know that your dog will be joining the day – just in case your guests have an allergy that you're not aware of.
Consider your dog's personality and how they will feel around groups of people – you want them to enjoy the wedding experience too! For nervous pooches or those who get over-excited, an intimate wedding mean that they can be included without too much pressure.
We love it when a couple wants to include their dog! It's important to let your Wedding Planner know in advance if you're planning for your dog to join you for the big day.
Consider the services of a pet chaperone for your wedding day. We want you to relax and enjoy the day – knowing that your dog is being well-cared for by an experienced pet chaperone will mean you can enjoy the day without worrying about your furry friend. In addition to assisting with the role of your dog during the ceremony and photographs, a pet chaperone may take them for intermittent walks,  as well as feeding them and picking up their poop (which you definitely won't want to be doing in your wedding attire!)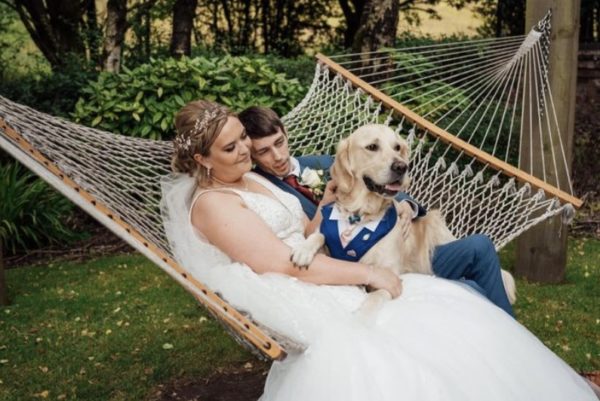 As with most dog-friendly wedding venues, we ask that your pooch remains outside. Your dog is welcome to be part of the proceedings during your outdoor wedding ceremony and we encourage dogs to then stay for reception drinks and photographs before returning home prior to your wedding breakfast.  
Please note: our wedding venue is set in a 72 acre estate including lake and woodlands with natural wildlife. As such, we ask that dogs remain on a lead.