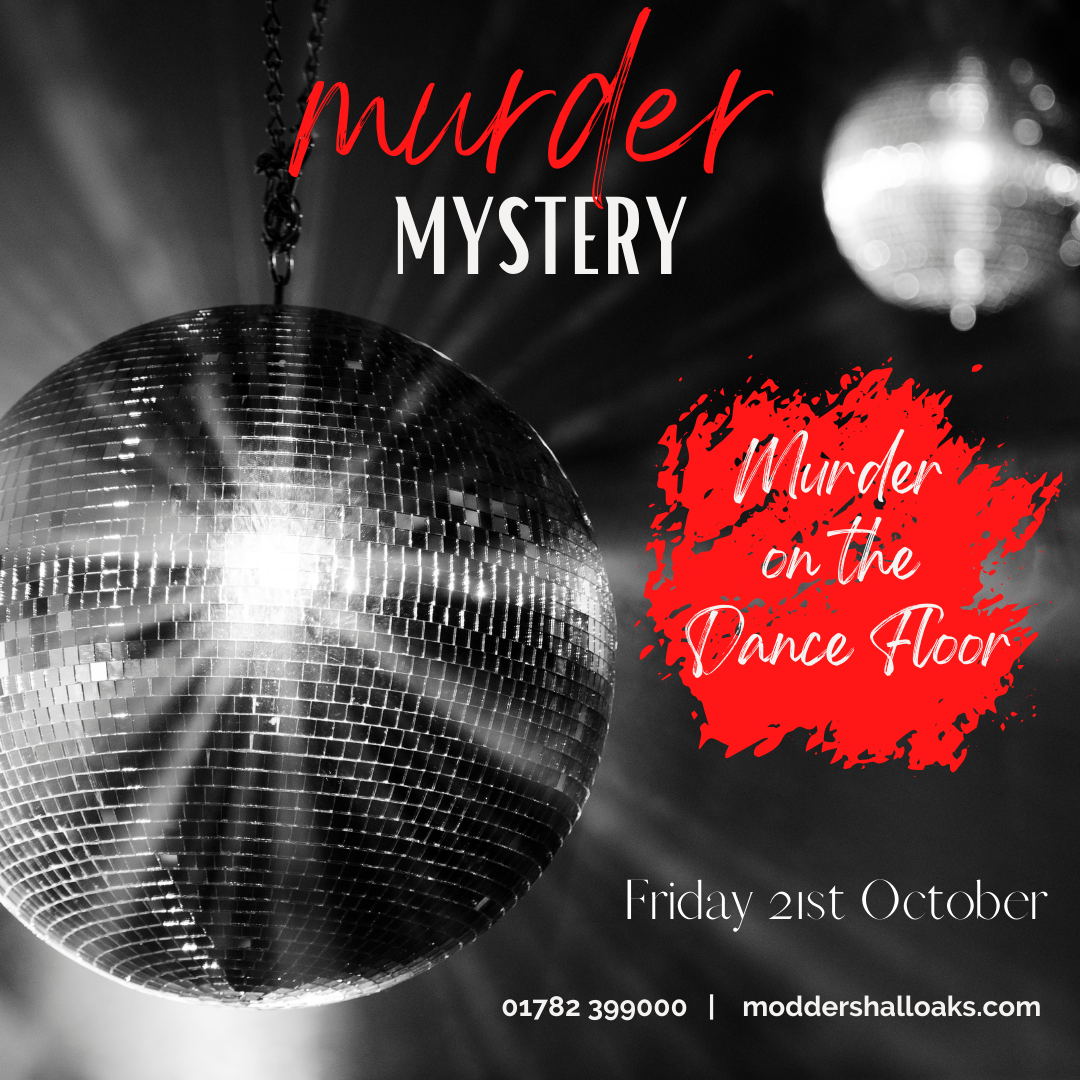 Moddershall Oaks Country Spa Retreat
Murder on the Dance Floor – A Murder Mystery at Moddershall Oaks
£55 PER PERSON – FRIDAY 21ST OCTOBER 2022
7:00PM ARRIVAL
Are you ready to spend a frighteningly fun evening putting your best detective skills to the test?
There's been a murder on the dance floor and it's up to you to find the culprit…
Join us on Friday 21st of October, it's bound to be a 'killer' night!
Arrive at 7pm and witness the events unfold first-hand with a delicious dinner, but will the truth be so easy to digest?
Tickets £55 per person.
Includes arrival drink, 3 course dinner and murder mystery entertainment.
Please note: tables fewer than 10 guests may share tables. 
Please call 01782 399000 to book your tickets
MENU
Starters
Spinach & Potato Soup (VE)
Wild garlic, mini cauliflower fritters
Honey Goat's Cheese Bon Bon (V)
Pickled cauliflower, beetroot crisp, watercress purée
Pulled Beef Croquette
Glazed spring onions, BBQ smoked mayonnaise
MAIN COURSES
Red Pepper Stuffed Chicken Breast (NGI)
Sweet potato rosti, grilled broccoli, garlic cream
Pan Seared Salmon Fillet (NGI)
Saffron fondant potato, grilled baby leeks, white bean & bacon ragout
Wild Mushroom & Chestnut Gnocchi (VE)
Basil & garlic pesto
DESSERTS
Chocolate Mousse (can be NGI)
Dark chocolate glaze, fresh raspberry centre
Red Velvet Sponge Cake
White chocolate sauce
Vanilla Cheesecake (can be VG & NGI)
Berry compote, strawberry sorbet, strawberry gel